So my parents were able to arrange some much-needed time off again, and this year, we decided to bring Chris to a skilled nursing facility in Austin, Texas, instead of me taking care of him at my folks' house in Alabama.
Mom and dad also planned a single day stop in Houston on the way to Austin, for a brief evaluation at TIRR and for a routine refill of Chris's Baclofen pump.  Very early the next morning at the hotel, around 3am, Chris began having very dangerous continuous seizures, and my parents had to take him to the emergency room at Memorial Hermann Hospital.  Chris ended up in the Neuro ICU, knocked out on Ativan and monitored on an EEG cart, much like last year at Huntsville Hospital.
One of the evenings saw some staff 'procedural panic' set in after Chris choked on excess saliva, which lead to further complications – they scraped up Chris's throat pretty badly and ended up causing some really unnecessary bleeding into his stomach.  Ghah.
At one point, one of the physicians was telling my parents that Chris was going to expire because of a somewhat low oxygen level in his blood.  I'd seen this same temporarily low number – 85-90% – last year at Huntsville Hospital after the seizures, but it returned to normal (99%!) after he came around again.  This observation from last year talked everyone down off the cliff…  but good grief, it was unnecessary added stress.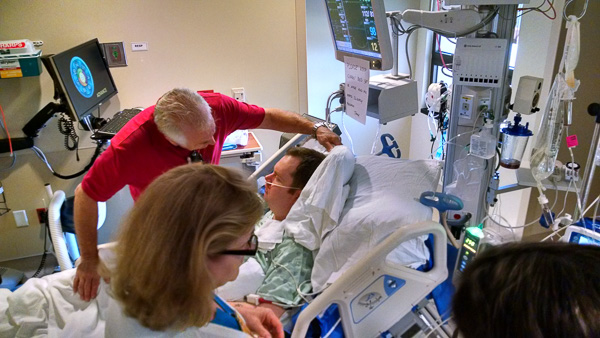 Chris also needed a PICC line to receive intravenous medication (folks that aren't self-mobile tend to be difficult to 'stick' in the usual spots).  A few days later, he developed a fever and an infection of the central line was suspected.  Serious antibiotics.  Thankfully, blood tests revealed no infection, and the fever broke on its own 'somehow'.
All these things continued to incrementally tack on a day or two to Chris's hospital stay, which meant rebooking flights, and rebooking flights, and rebooking flights (props to Delta for being so accommodating).
My folks were kind of resigned to scrapping their holiday at this point, but at least Chris was OK!!!
After almost two weeks in Houston, they finally managed to have Chris discharged from Memorial Hermann.  PICC line freshly removed and the wound covered with a bandage!  No more seizures!  No infections!
It was cutting it really close to still make their thrice-rebooked vacation flight and get Chris settled in at the skilled nursing facility – Park Bend – in Austin.  Yikes!
My parents had a weekend to get to know folks and provide some "Chris OJT" at the nursing home before they were off on their trip.
I was anxious about looking after Chris, but really glad my folks were able to GET ON THE PLANE before some other calamity unfolded!!!
Huzzah!
I spent about six to eight hours throughout the day, every day, at the nursing home keeping an eye on things, training folks and trying to come up with fun stuff to do with Chris while he was in Austin.
While it's absolutely essential for anyone in a medical facility to always have a patient advocate,  I will say that the nursing home staff – across the board:  CNAs, LVNs, RNs, admissions, DON, facility nurse practitioner, facility administrator – outperformed many hospitals while taking care of this young traumatic brain injury survivor.

So we did some things over the course of the next month:
It was bloody fantastic having my brother in Austin again, and to witness him smiling all the time.  Woohoo!
He would smile on cue at some pretty obscure Simpsons humor.
He smiled a lot during the lecture at the TACC visualization lab on campus.  He smiled tremendously while watching the Texas – Kansas State game.  He smiled while starting up the Triumph.
The smiling confirms that Chris does still have language comprehension and some amount of facial motor control.  He was also more easily able to turn his head to the right spontaneously this time, and he did so several times without being prompted (to watch a nearby television, for example).
I think Chris's daily experience might be similar to this man's:  VIDEO: How my mind came back to life — and no one knew.
One of our cousins recently learned of the Intel Assistive Context-Aware Toolkit, which allows a webcam-visible user to spell words simply by moving facial muscles, but the software is a tad buggy at the moment, and Chris doesn't seem to have quick enough focus or motor control to use the software yet (for the periods when the software has calibrated to his face properly and isn't off in some weird flashing error state).  We will definitely keep trying it, though – it's a much more user-friendly approach than the EEG-based system we attempted last year (the EEG gel is an absolute mess to clean up).
My parents returned from what sounded like a fantastic vacation, and spent another week in Austin getting back into the swing of things again.
It was unfortunately time to say goodbye to everyone:  to my folks, Chris, and to the nursing facility and staff that really helped make this possible, too.
So that's it for this update.
I'd like to think this will become an at least annual thing, bringing Chris to Austin for an extended period, while my folks take some much-needed R&R.
Robert