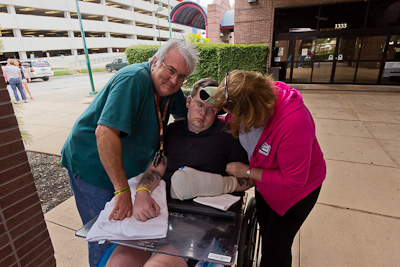 As my dad previously posted, they actually DID make it to TIRR in Houston over the weekend of September 17th – no false starts this time!
I was impressed by the folks at TIRR during the previous two admissions evaluations…  and continue to be impressed by the place.  In fact, I'm only disappointed that Chris couldn't get into TIRR sooner.
There were extremely hard-working folks at Texas NeuroRehab and HealthSouth RIOSA, but perhaps too few personnel for too many patients.  The folks running TIRR seem to have nailed this.  Everyone:  the techs, the nurses, the physicians, the therpists, even the adminstrators, all seem globally excited to be working at TIRR.  Perhaps a combination of an overall good work environment, and a much lower staff-to-patient ratio.
The therapy is a combination of things we've seen before and some new, novel things (music therapy!).  And much more on the diagnostic side to determine actually where Chris is in terms of how he experiences the world.  For example, TIRR might finally confirm his glasses prescription in the next week or so.  Every other facility wrote it off as an unnecessary detour, so we'd reluctantly stuck with his 'found-in-a-drawer' prescription from before the accident.
Chris unfortunately had two seizures in the evening this week, but the staff were on it quickly, naturally upping the dosage of the anti-seizure medication, and temporarily suspending the neuro stimulants.  The neurologists seem eager to get Chris back on the stimulants, though, working toward a dosage that is just shy of the seizure mark.  The stimulant somehow makes it easier for Chris to again recognize "the right" – ie: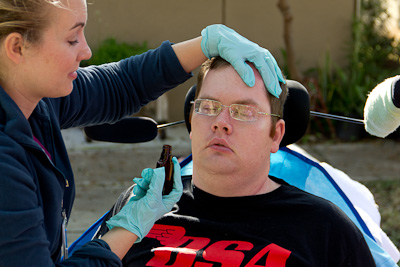 turning your head to the right, moving your eye to the right past center line, etc.  I noticed this effect last year at RIOSA, but after Chris's first seizure there, the neurologist completely backed off (most likely because by himself, he couldn't monitor Chris closely enough to guard against further seizure activity).
My folks have setup shop (with the dog!) in an RV park about 5 miles from TIRR and are taking turns two weeks on, two weeks off between Houston and home.  I'm trying to make it to Houston when I can, without leaving things on fire at work.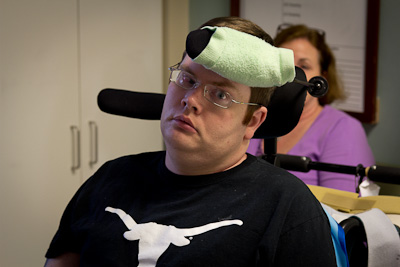 So that's it for the moment.  I'll definitely try to keep this a bit more updated now that Chris is at TIRR – stay tuned!  I'm hoping for lots of small, incremental improvements.