So this is awesome:  Chris's speech therapist at TIRR worked with the Texas Department of Assistive and Rehabilitative Services and a local device vendor in Austin to put together an assortment of really cool proximity switches and control devices to start practicing with (ahh, and I should explain:  proximity switches don't require you to press them to activate;  you move a body part within a 1/4″ or so of the sensor to activate it).
The setup is a combination of some rather ingenious Manfrotto photographic / lighting mounts, velcro and proximity switches from AbleNet.  The more generalized orange AbleNet "Candy Corn" proximity switches interface with a variety of gear:  to start off with, Jennifer at TIRR set Chris up with an iPod controller and a 120V PowerLink 4 relay (that controls up to two appliances).
It takes some time, but we were able to practice turning a lamp on and off with the PowerLink relay, and had some luck playing and pausing some MP3s.
The second set of proximity switches (AbleNet's "QuickTalker") are very simple, completely self-contained battery-powered devices that will record a short sample of audio to conveniently play back when the proximity switch is activated.  In these particular photos, the QuickTalker devices are configured for "YES" and "NO":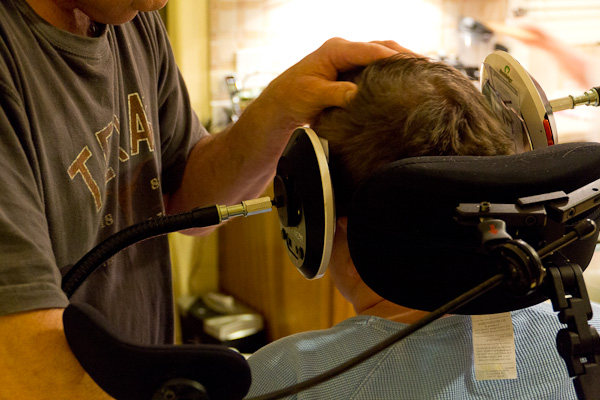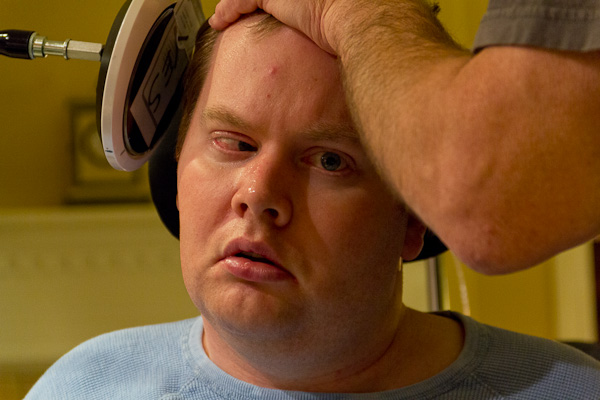 My folks are using the QuickTalker devices to augment the daily evening yes and no questions they practice with Chris;  I think the audio feedback will be really useful for Chris (hearing "YES" and "NO" when he turns his head a certain direction).