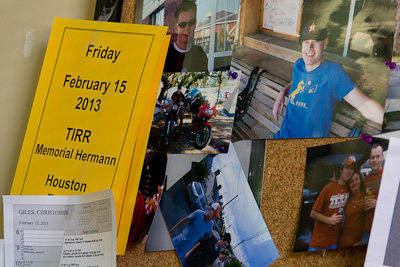 TIRR decided that Chris was doing so well, they'd extend his stay another week, discharging him on Sunday, February 17th.  Unfortunately, he came down with a urinary tract infection which really slowed him down, and probably also lead to several frightening seizures on the long trip home (my mom has noticed that Chris has seizures whenever he's sick or has an infection).
From talking to my folks, I think things are OK now, and the weirdness where Chris's left eye was turned inward / upward from the seizures has subsided.  My folks are glad to be home in any case.  I think they're backing off from the higher dosage of the neuro stimulant for a while.
On the 'better news' side of things:
– The speech therapy folks were able to try out some nifty proximity switch devices this time around, along with the associated headrest mounting hardware, so hopefully we'll be able to rig something up soon at home where Chris would be able to practice making choices by choosing one switch or the other.
– The PT/OT folks also sorted out some issues with Chris's standing frame that ought to make it much easier for my parents to actually get Chris into the thing safely.  He really needs regular standing frame time to slowly get his feet back to a more normal position (the achilles tendons shorten over time if you don't stand).
– Chris gave a big smile for the camera on one of the last nights as we were leaving for the RV park.  Pretty cool:
More updates soon, probably from my folks (I missed the bulk of this TIRR trip due to some really shite timing of projects at work, d'oh).